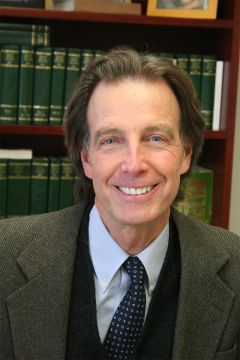 David F. Kidney
David is a natural born storyteller.  For more than 30 years he has used this gift on behalf of his clients, with great results.  David knows that in order to tell his clients' stories, he first must listen.  It is, after all, their narrative he is telling.  David is an excellent interviewer and an empathetic listener.  This helps him put things in context.  It enables him to humanize his clients and tell their stories to insurance adjusters, opposing counsel, prosecutors, judges, and juries.
If things had turned out differently, David would be giving sermons rather than closing arguments.  After majoring in religion in college, he thought of going to divinity school.  However, after working with the mentally ill at a residential therapeutic farm, and then as a counselor for youth who had been adjudicated delinquent, David determined that he could best advocate for persons in need by going into law.
Upon graduating from law school, David clerked for Justice Wynn Underwood at the Vermont Supreme Court, and then went to work as a public defender.  There was no better way to learn how to try cases.  A few years later he became a founding partner of today's Rubin, Kidney, Myer & Vincent.
David is a trial lawyer.  His practice is focused on personal injury, criminal, and family law.  He has successfully tried medical malpractice, personal injury, products liability, and consumer fraud cases.  Along with his partner, Richard Rubin, he tried a products liability case against a major pharmaceutical company that resulted in a $7.4 million verdict, the largest verdict in the history of Vermont at the time.  In his criminal work, David has tried cases where his clients were charged with murder, bank robbery, aggravated assault, sexual assault, drug related offenses, federal gun violations, and DUI.  David is known for being a caring and compassionate advocate, and is recognized as one of the area's top trial lawyers.
David lives in Montpelier, where he and his wife Kim raised their children.  David loves spending time with his family and friends, cross country skiing, biking, hiking, playing lawn games (or any game for that matter), and swapping stories.
Education:                                               
Hobart College, B.S. 1976
Catholic University Law School, J.D. 1982     
Bar Admissions:
Supreme Court of the State of Vermont

United States District Court, District of Vermont

United States Supreme Court 

Memberships and Affiliations:           
Vermont Bar Association (VBA)
Washington County Bar Association (WCBA)
Vermont Association for Justice (VTAJ)
Vermont Association of Criminal Defense Lawyers (VTACDL)   
National Association of Criminal Defense Lawyers (NACDL)